Our 10th Anniversary Tour to Bad Neustadt
27th April – 2nd May, 2017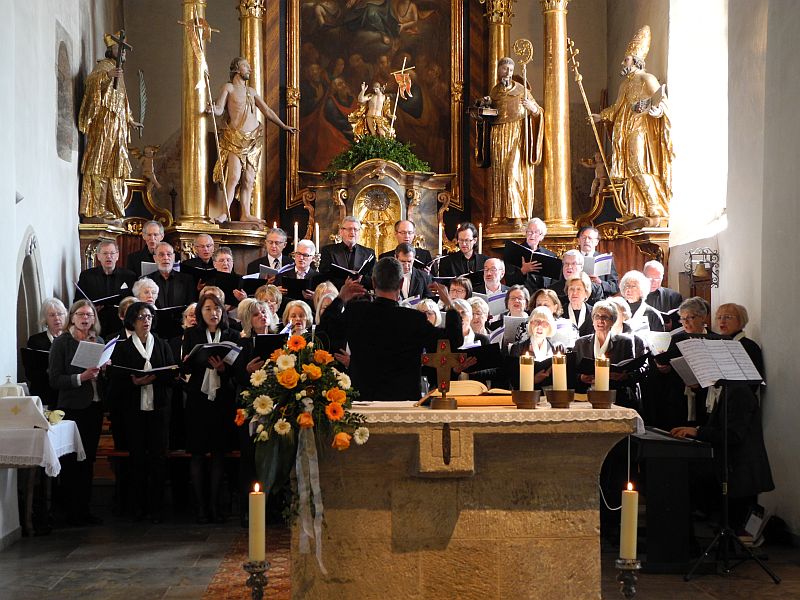 On 27th April, 35 intrepid choir members and partners set off from Pershore to Bad Neustadt, Pershore's twin town. After many months of negotiation and planning we were finally off! A short flight from Birmingham found us in Frankfurt and following a welcome from Gabi, we continued our journey to Bad Neustadt and the start of a fantastic few days.
Our first evening was spent at a Beer Festival where we watched the raising of the Maypole and lubricated our voices! The next day we visited Coburg , breaking our return journey to visit The Basilica of the Vierzehnheilige, a beautiful baroque masterpiece. Here we performed an impromptu piece and listened in awe as our voices reverberated around the glorious building.
But, on Saturday came the event we had been waiting for, the official opening of the new Stadthalle. We joined with friends from the Czech Republic, France, Germany, Italy and Scotland in a never to be forgotten evening of music, fun and lots of laughter.
On Sunday, we had the great privilege of singing with the choir of St John's Church, Brendlorenzen. Together we sang Schubert's Mass and Rutter's "This is the Day". The actual service was both moving and memorable and a generous lunch, provided by Wolfgang and his choir, rounded off a wonderful morning.
Monday found us in Wurzburg where, again, we felt extremely privileged to sing in one of the Juliusspital buildings, a beautiful, airy room decorated with wall paintings.
An evening of generous hospitality with our German friends in Bad Neustadt brought the day, and our tour, to a close and the following day found us heading home to Pershore.
If you have enjoyed reading about our tour and viewing our photos, why not think about joining our choir? We're a friendly bunch!
---